What is Voter Ed?
Voter Ed is Spread The Vote's civic and voter education program. Voter Ed is designed to help Spread The Vote accomplish its mission of closing the gap between registered voters and voter turnout by educating and energizing voters. As a way to engage the voting population and support discussions about voting 365 days a year, each month, Voter Ed will be answering a frequently asked voter question about the voting and political process. Voter Ed is designed to address the lack of resources for adults who want to be civically engaged but need to learn the fundamentals of voting and the democratic process. We're working with partners around the country to make Ed available to everyone.
Those that are interested in partnering with our Voter Ed Program will receive monthly voter education packages, which include:
Topic specific mini-lesson plans (20-30 mins), presentations, and handouts

Social media content, including graphics and

Monthly call to review packages
Through Voter Ed, Spread The Vote wants to make voting a regular part of our daily lives, instead of just something that is only discussed every election cycle.
Who is Ed?
Ed, short for Edwina, is the Voter Ed mascot. Ed is 25 years old and works in IT (Information Technology). Like many people in the U.S., she was registered and voted in presidential elections, but wasn't really involved beyond that until 2017. As people around the country began to pay more attention to what was happening in government, Ed wanted to get more involved. The more she learned about voting and the political process, the more she realized the influence it has on people's day to day lives. As Ed tried to learn more about voting, she was frustrated with the lack of resources available to help her understand and navigate the system in which she lives. Now she works to pass along the knowledge she gained in hopes that she can help every American who wants to be more civically engaged.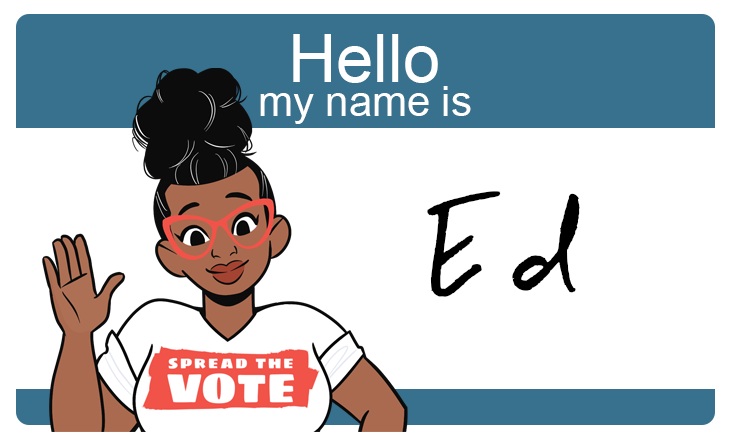 Become a Partner
If you're interested in becoming a Voter Ed Partner and using our materials, sign up using the form below. If you have any questions, email us at VoterEd@spreadthevote.org.